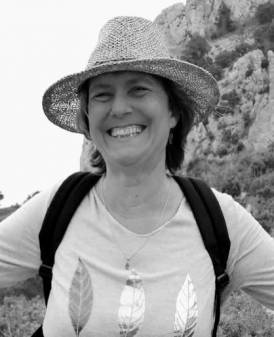 Nombre: Janine Troutman
Lugar de nacimiento: Londres, Inglaterra
Residencia actual: Fridingen an der Donau, Alemania
Miembro desde: 25/01/2023
Poemas incluidos en esta página:
TULIPS
THE VISIT
CONTIGO/CONMIGO: LOS CÍRCULOS DEL YIN Y DEL YANG
THE CO-OPERATORS
FARAWAY
CUÁN LEJOS...
HALL WATCH
LA MAÑANA
IN TAVOLA
EL ARTISTA Y SU MODELO
RENDEZ-VOUS PLACE DE LA POSTE


TULIPS
They have been talking
for the last two weeks
those folding not enfolding lips
like flaccid red roses
flusy blown on slender stalks
bending indelicately forward
over broad leaves
pale and grassy green
Brightly, boomingly, like
super real cutouts in
the icon gallery
blatant in period passion
with pouting mouths
these cool, green, meaningful
visitors from Mars
have been brooding
in sensual lust
THE VISIT
She slumbered in an empty carriage
at the back of a long'n dusty train.
Waited on an unknown street of Rome
standing in the cold evening rain.
She slid past a distracted neighbour
as he walked through the open door.
Sped up several flights of stairs
till she reached the topmost floor.
She rang twice, by mistake, on the doorbell
almost forgetting to breathe
was greeted by a not unattractive flatmate
and immediately requested to leave.
CONTIGO/CONMIGO: LOS CÍRCULOS DEL YIN Y DEL YANG
Acróbatas intrépidos
al circo del mundo,
al sustento del círculo.
Damos vueltas y más vueltas,
ascendemos cabizbajos,
bajamos incandescentes
hacia arriba.
Balanceados, tambaleados,
sueltos, pero acogidos
por los astros circulares,
por el fulgor del sol,
brillamos
y la cuna de la luna blanca
nos canta una nana.
Aunque las cuerdas
del violín acompañante
sean suaves y melódicas,
a veces son nanas de espinas
y, aunque sean estridentes,
nos soltamos, abrazados
más allá de la muerte.
THE CO-OPERATORS
So,
you´re going along with the plan then.
Joined the Elected.
Good on you!
No-one else to blame, I guess,
if you find that you are also included
in their final solution.
FARAWAY
Death divides
Out across the bay tonight
One by one, the lights go out
and darkness draws in
If you die
other lights will shine on
but not all their brightness
will be enough to
lilt the bay in magic
to make it dance
A fresh sea breezes
combs my hair in tangles
dampness rises from the
cold stone jetty
for tonight you are, and are not,
here.
Out across the bay
your absence
fills my thoughts
as faraway pinpoints of stars
fill the open dome
of the indigo black sky.
CUÁN LEJOS...
De noche,
olas abajo, viento arriba,
la bahía se dibuja
en un círculo de luz:
luz de barcos, de casas, de farolas.
Pero estas luces se apagan una por una
y, uno por uno, se apagan también
los amigos.
Si tú murieras,
otros seguirían brillando
pero, sin ti, ni toda su claridad sería suficiente
para bañar a la bahía de magia, para hacerla bailar.
Una brisa caprichosa, fría, de salitre,
quiere juguetear conmigo,
peina mis cabellos
y los vuelve a enredar.
La humedad sube desde las piedras del espigón
y tengo los pies helados.
Esta noche estás
y no estás
mis pensamientos se llenan de tu ausencia.
Mientras tanto,
la cúpula abierta y negra del cielo
se ilumina de estrellas.
HALL WATCH
Outside crickets hum
the fridge hums louder
Buzzing long and low-keyed
into the air´s anticipation.
A gnat hovers undecided…
CLICK
Nerves jump,
trapped thought suspended
a little beyond my head.
Fear invades
aware, awake to
the slow steady dripping tap,
to night´s tiredness
early morning´s silence…
That slight ache
about the eyes
Under a white bulb
black shadows gather in
alien shapes
QUIET!
Something moves
very stealthily
on padded feet
across the mind
Outside, we are scared to see it
lurking in dark corners…
Why do the crickets
hum so loudly?
LA MAÑANA
Esfumada
La noche bochornosa
acalorada y difusa,
la mañana amaneció
enterita
sorprendentemente
sin signo alguno de
descomposición
Quizás un pelín
descolorada
tal vez un tanto
desinflada
pero lúcida, prometedora
y, sobre todo,
clara
IN TAVOLA
È già tardi
e la carta bianca ancora senza scrivere.
Senza scrivere le parole impossibili.
Come cominciare?
"Caro…"?
No.
Ma senza spiegare,
dopo tanti anni?
Poi,
"Sono veramente desolata…"?
Non è certo.
Forse sconcertata,
ma non afflitta ne confusa.
Vedo chiaro, più chiaro che mai.
"Mi dispiace…"?
Ê po` e troppo.
Non posso parlare
della nauseabonda vacuità
di tanto tempo fa.
Dico invece
che ora mi sento quasi felice?
Non sono libera alla fine?
Libera di no scrivere
Parole d'amore e disamore.
Libera di no giustificarmi.
La porta è aperta.
Vado piano piano.
Vado senza rumori.
Prima di chiudere
metto la carta in tavola.
Non è rimasta in bianca.
In fin dei conti ci sono
queste poche parole.
EL ARTISTA Y SU MODELO
Te posas desnuda
sobre el lecho
y, payaso enamorado que soy,
pinto sobre el lienzo
un ramo de flores.
RENDEZ-VOUS PLACE DE LA POSTE
À perte de vue
dans un espace perdu
trois enfants jouent
et le temps s´arrête
pour toujours
Dans la brume
de la mémoire
vous deux et moi
courons ensembles
sous le soleil
et à l´ombre
La gentille fille s´incline
et verse de l´eau
dans la fontaine
il y a soixante ans
et toujours
Maintenant que
d´autres petits garçons
courent entres
les racines des
grands arbres africains
Est-ce- qu´elle, qui est statue,
se rapelle…de nous
comme moi
je m´rapelle de vous
Toujours?
Quand mon corps,
déjà ravagé
par les années, le tabac
et la maladie,
mon corps qui ne répond plus
aux appéls de l´amour
soit blême et blanc
et s´enfonce dans la terre
comme les racines
des grands arbres africains.
Je serai fidèle
au rendez-vous
Je serai là
pour jouer avec vous,
trois enfants joieux
Qui se cachent
entre rires et racines,
entre arbres et fontaine
et le temps s´arrête
pour toujours


---
Webmaster: soydelfrater1@gmail.com